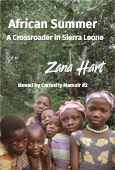 Like other idealistic college students in the early sixties, Lesley Linebarger wants to make the world a better place. With JFK in office, change is in the air. Lesley takes part in an Operation Crossroads Africa workcamp in Sierra Leone after her third year at Stanford. Despite her qualms about enduring the hot and rainy African climate, she is curious to find out if she really can make a difference.
She is assigned to a group of American and Canadian students who go to the small town of Moyamba in Sierra Leone. She has no construction skills and not much physical strength, but she figures others may be like that too. She wonders if she can keep up with the group since she gets tired easily, but she is determined to try. They start construction on a school and they go on field trips around the country.
Lesley didn't expect that her natural ability to start conversations with anyone, anywhere, would be a benefit to the group. One evening, an African man who studied in England insists that everyone with white skin dislikes Africans with black skins. Lesley changes his mind, but it takes several weeks and a beer.
She is surprised by the joy she sees in so many of the Africans. How can they be so happy when they are so poor? Is it their religion, their culture, or the dancing that is always going on?
People who love Africa, travel memoirs, or nostalgia memoirs will enjoy this absorbing short read, illustrated with fifty color photos taken in Africa in 1963. The Postscript by Gary Schultz provides the perspective of a Peace Corps volunteer of that era who has returned repeatedly to Sierra Leone and knows well the hard times the country has gone through since Lesley was there.
It's available in Kindle format (and in the Kindle Unlimited program) and as a paperback.